Glenn Eure's Ghost Fleet Gallery 
Now in its 44th year, a Gallery of Original Art where tradition and the avant-garde converge.  Located in Nags Head on the OUTER BANKS OF NORTH CAROLINA.
Features watercolors, sculptural oil canvases, collagraphs, woodcuts and mixed media innovations by GLENN EURE in a building he designed (including the "art floor).  Also sculpture and woodturnings, as well as special exhibitions by guest artists, both accomplished and emerging.
Glenn Eure believed in the artist in each of us and was a strong supporters of the arts on the Outer Banks, often making his Gallery available  for community arts events and literary arts presentations.  That tradition continues.
                         THE ACQUISITION OF ORIGINAL ART IS AN ART IN ITSELF.
Meaning Beyond Their Lives
For Glenn Eure and wife Pat, art was a way of life.  And these islands sculpted by time and nature off the coast of North Carolina were both "home" and another adventure.
"In the 70's when Glenn Eure first came here he was known as the Barefoot Printmaker of the Outer Banks,"  As the art world on the Banks grew and with his amazing energy he was involved in everything, he was dubbed its Ringleader.  In his ninth decade and still creating innovative artwork, he was called, and is still know as, Grandfather of Outer Banks art."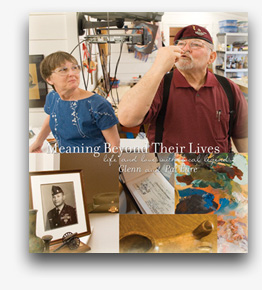 As you enter the Gallery created by this legendary artist, notice his "two-by floor" (made from scraps left from the building construction).  Inlaid at the entrance are the words EURE WELCOME – (just pronounce "Eure" like "pure").   Experience the uniqueness of this special place for art, and you will know that you really are – welcome, that is.
"The Gallery was his vision and will continue."  Pat Eure, the Gallery Wife.