About Glenn Eure

Born in the Hawaiian Islands of Portuguese ancestry, Glenn Eure called North Carolina "home." A retired Army major, he remained throughout his life a patriot and "soldier at heart."
Although he may have traded in his paratrooper boots and airborne wings for the tools of the printmaker and painter, his spirit of adventure remained undiminished. It was his spontaneous energy that set the mood for his creativity and distinguishes his work whether the medium is a traditional one or a Eure innovation.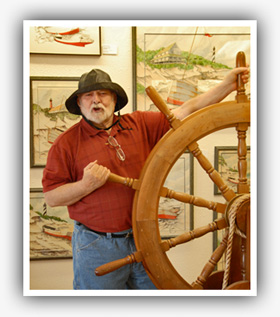 While he readily admittted to being a gregarious "teller of tall tales," Glenn Eure was not given to commentary about art or his role as an artist.  For him, the meaning of his work was best expressed in the experience of creating it and sharing it.
A 1975 graduate of East Carolina University, School of Art (B.F.A. with a major in printmaking and minors in painting and sculpture), he has been described as a man with a whale-sized imagination and a heart to match his talent.
The concept for the Kitty Hawk Monument to a Century of Flight was his, and he was one of the design artists for this 60 x 75 ft. flight sculpture which was constructed in 2003 in celebration of the centennial of powered flight and dedicated to the soaring of the human spirit.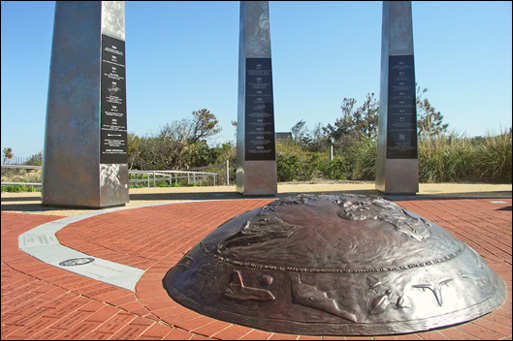 Glenn Eure was a long-time Rotarian and was awarded the "Service Above Self" Award by the Rotary International President, an award made annually to only 50 out of 2 million Rotarians worldwide.  He was presented the Order of the Long Leaf Pine by the Governor of the State of North Carolina, the highest civilian distinction in the state.  A parishioner at Holy Redeemer Catholic Church by the Sea, at age 78 he completed carving the 14 Stations of the Cross (half to three-quarters life-size) and donated them to the Parish.
He has been honored by the Town of Nags Head as their "Keeper of the Light." In 2010 at the Land of Beginnings Festival, he was proclaimed an Outer Banks "Living Legend."
Glenn Eure passed on September 6, 2018, a few days before his 87th birthday.
---