Glenn Eure Outer Banks
A Gallery of Original Art on the OUTER BANKS OF NORTH CAROLINA
Where tradition & the avant-garde converge
Here in a building of his own design, versatile artist and Gallery owner Glenn Eure exhibits his work in a variety of media including collagraphs, woodcuts, etchings, watercolors, sculptural oil canvases, and relief carvings – on themes from abstract to nautical.
In addition to showcasing his work, Glenn Eure's Gallery over the past 35 years has become known as an official center for the Arts on the Outer Banks, featuring exhibitions of guest artists, both accomplished and emerging, and providing a forum for community arts events and literary arts presentations.
THE ACQUISITION OF ORIGINAL ART IS AN ART IN ITSELF.
Meaning Beyond Their Lives
For Glenn Eure and "Gallery wife" Pat, art is a way of life. And these islands sculpted by time and nature off the coast of North Carolina are both "home" and another adventure.
"In the 70's when Glenn Eure first came here (and life was much simpler), he was the barefoot printmaker of the Outer Banks," Pat recalls. "Later on, he was dubbed ringleader of art here. Now, that he just turned 81, they call him grandfather of Outer Banks art."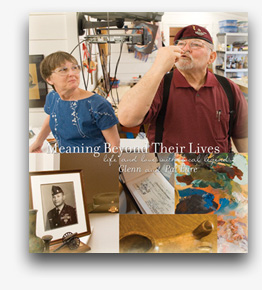 As you enter the Ghost Fleet Gallery, notice Glenn Eure's "two-by floor" (which he created from scraps left from the building construction). Inlaid at the entrance are the words EURE WELCOME. Glenn Eure has a lot of fun with his name. Just pronounce "Eure" like "pure." Experience the uniqueness of this special place for art, and you will know that you really are – welcome, that is.